In Ukraine, recent elections in the disputed separatist republics of the eastern regions  and national elections which have indicated a decisively pro-western turn in the country's politics, have deepened internal divisions within the country. Comment on Ukrainian affairs has consistently emphasized the importance of regional factors and an 'east-west' divide in the country's history and politics. Yet it is also possible to overstate the centrality of a simple geographical line formed by the Dnieper River. More recent scholarship has emphasized not only the geographical divide but its relation to more complex regional patterns to Ukrainian history, and how Ukrainian national identity has been understood and formed not only in conflict with but in more complex relation to its historical 'others' – most notably, in both historical and contemporary contexts, Russia.
The studies considered in this part of the series all focus on how this process has taken shape, dealing specifically, inter alia, with concepts of 'romantic nationalism' in Ukraine, the development of Ukrainian national(ist) historiography in relation to the country's geographical situation, and the role of certain historical 'myths and memories' in the history of Ukrainian nationalism(s). This part of our series on Ukraine will contribute further to research on the country, some of which will appear in next year's special edition of Studies in Ethnicity and Nationalism on Ukraine (15.1).
Serhiy Bilenky has emphasised the historical rather than geographical significance of this 'east-west' divide in his work Romantic Nationalism in Eastern Europe: Russian, Polish and Ukrainian Political Imaginations (2012).  He points to the role of competing conceptions of national belonging in shaping Ukraine's history, and how this as much as the political and geographical factors has worked against the development of an overarching Ukrainian identity that can overcome regional challenges. What complicated the history of nationalism in Ukraine was not only that 'for most natives of Ukraine engaged in the discourse about Ukraine, the Ukrainian imagined community (with or without a national state) was compatible with Russianness', but also an idea of Ukraine 'helped both Russians and Poles not only to arrive at their most authentic national histories and folk traditions but also to strengthen their national identities.' (Bilenky 2012: 89, 306)
Similarly, in From the Shadow of Empire: Defining the Nation Through Cultural Mythology, 1865-1870 (2010), Olga Maiorova points out that 'Russian and Ukrainian national identities competed for the same ancestors, heartlands, and historical events.' Any analysis which tries to strictly separate the (conjoined) development of Ukrainian and Russian nationalism merely restates, therefore, the assumptions of these nationalisms. In Maiorova's analysis, the development of a Ukrainian historical narrative which emphasised antagonism with and separation from Russia and that of a Russian narrative which emphasised the timeless commonality of Ukrainians within a greater Slavic community could and did spring from the same sources.
In a more in-depth analysis of a single important historical 'myth', specifically the 'Cossack mythology' and its importance to both Ukrainian and Russian nationalisms, Serhii Plokhy notes that it was certain terrains in the south and east of Ukraine that became crucially important to both Russian and Ukrainian senses of nationhood –regions in which the present crisis is concentrated. Highlighting the utility of this 'myth' for different groups, Plokhy points out that it was as important for nineteenth-century Russian liberals as it was for Ukrainian intellectuals. (2012: 3-4) On the other hand, 'by focusing on the heroic deeds of the Cossacks', the 'myth' of the Cossacks 'provided the emerging Ukrainian nation with a story of its origins…as an ethnic group' (2012: 7) centred in eastern and southern regions of present-day Ukraine, a story which provided both a distinct point of origins for the Ukrainian nation different from and potentially in conflict with its 'Russian' heritage.
In a more recent volume, authors such as Georgiy Kasianov, Roman Szporluk and Andreas Kappeler have noted the continuing importance of a more general 'east'-'west' divide in the historiography, which has quite often been conceived of in 'civilisational' terms, even when not explicitly as an integral part of the Ukrainian nationalist historical narrative. This form of argument has 'ethnicized' Ukrainian national identity as much as any of its 'rivals', and divided Ukrainian understandings of the country's history into what may be 'mutually exclusive and irreconcilable' regional narratives. (Kasianov 2009: 19, Kappeler 2009: 56, Szporluk 2009: 273)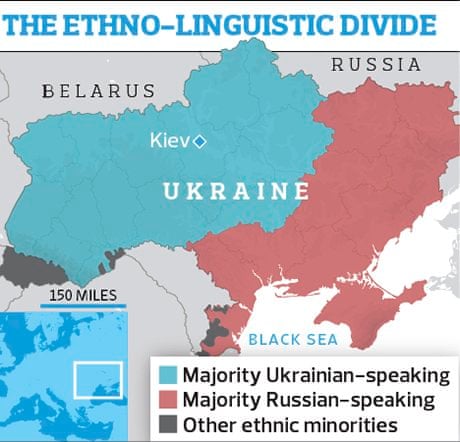 These analyses focus largely on the 'ideological' aspect of nationalism and the role of 'and narratives of the past in delineating conceptions of national belonging. In emphasising the different uses to which certain narratives could be put, and the alternative sources of belonging that seem to have been available for Ukrainians (such as that of a Russian-oriented identity), they  reject, largely, the notion of any single Ukrainian sense of  national belonging. On the other hand, and equally importantly, they find that the same applies to 'non-Ukrainian' ideas of national belonging in the country, and agree that some of the most important cultural constituents of modern Ukrainian national identity – such as the 'Cossack myth' and the idea of Ukraine as a 'bridge' between 'east' and 'west' – have long pre-dated the age of nationalism.
There is a lengthy continuity of consensus in historical scholarship on Ukraine from different viewpoints ranging from political and social history to newer comparative and transnational methods on the importance of the 'east'-'west' divide and regional divisions in Ukraine. These studies in particular, however, tend to employ a constructivist reading of nationalism(s), which, in simple terms, is interested primarily in the importance of competing conceptions of national identity within a given context and the varying conditions under which they arise and develop; and the practices by which nationalists 'create' nations and nationalisms through highly selective, or 'instrumentalist' usage of given 'myths and memories' or 'objective' ethno-cultural ties, rather than attributing any permanence or simple causal power to these factors.
The next part of this special series on historiographical understandings of nationalism in Ukraine will consider further and more closely the role of regional differences and particularities in Ukrainian history.
 References
Serhiy Bilenky, Romantic Nationalism in Eastern Europe: Russian, Polish and Ukrainian Political Imaginations (2012)
Georgiy Kasianov and Philipp Ther (eds.), A Laboratory of Transnational History: Ukraine and Recent Ukrainian Historiography (2009)
Olga Maiorova, From the Shadow of Empire: Defining the Nation Through Cultural Mythology, 1865-1870 (2010)
Serhii Plokhy, The Cossack Myth: History and Nationhood in the Age of Empires (2012)
'Ukraine elections highlight nation's split between east and west', The Washington Post, 25/10/2014
'West condemns rebel elections in eastern Ukraine', The Telegraph, 31/10/14